The EU Tobacco Products Directive is almost here and will change the way you vape
Until recently vapers and ecig smokers have been able to vape without worrying about irrational and unchallenged regulations foisted upon them.
This has allowed countless cigarette and tobacco smokers to substitute quite a harmful method of acquiring nicotine with a more healthier nicotine delivery method – namely electronic cigarettes. A revolution which has been welcomed by medical professionals and government officials.
However, this is all set to change with upcoming regulation across Europe, including UK which will enforce the revised Tobacco Products Directive (TPD). The TPD will class e-cigs and flavours as tobacco products.
The Tobacco Products Directive (TPD)
The EU Tobacco Products Directive was first put together in 2001 with the aim to reduce tobacco usage across Europe and in particular in younger generations. Since then the directive has introduced legislation for plain packaging, large and graphic health warnings along with tighter age restrictions.
ECigs and the Tobacco Products Directive
In a controversial move in 2014 – behind closed doors the decision was made to add electronic cigarettes to the list of Tobacco products to be regulated by the TPD. The move at the time repeatedly failed to attract enough support to revise the directive. Eventually however, the regulation of electronic cigarettes was bundled together with other regulations related to tobacco products (such as plain packaging) in a bid to get it enough votes to include ecigs in the directive.
The revised Tobacco Products Directive, in particular Article 20 proposes the regulation of ecigs as a Tobacco product and therefore introduce measures to regulate how ecig products are sold, advertised and presented.
Some of the new rules to be introduced are as follows
A maximum nicotine strength

Until now ecig smokers and vapers have had the freedom to choose the strength of Nicotine in their e-liquids. If regulation passes,
this freedom will soon become a historical privilege as new rules will prevent nicotine strengths greater than 20mg to be sold – as outlined in the Tobacco Products Directive .

ECigs must deliver a consistent dose of nicotine

In practice this is almost impossible to implement, no current ecig device can deliver a consistent dose with each draw. The strength and duration of each draw varies and so will the nicotine concentration. Even tobacco cigarettes are not required to comply with this impractical and unworkable requirement!

Limits on maximum refill sizes

Again, another requirement in the Tobacco Products Directive which defies sensibilities. For those who have exercised their freedoms to save a little money in the past by purchasing larger container or sizes of e-liquids, this new regulation will limit refill sizes to 10ml.

Maximum size of cartridges and tanks

We've struggled to find a reason to support this, but this regulation will require all tanks and cartridges to be limited to 2ml. This spells a less than welcomed end to the use of larger tanks currently in use.

ECigs and refill containers must prevent leakage

This one is open to interpretation. This legislation requires all ecigs and refill containers to implement technology which prevents leaking during refill. This is mostly controlled by the user and why a little leakage is such an issue remains unknown. In our view most ecig users are competent enough to be able to handle such minor incidences.

ECigs products may be prohibited based on the decision of a few

It will only take the decision of 3 members states of the EU to decide if a product is a health risk and if it should be prohibited in all EU member states.
The Tobacco Products Directive rules above, along with more red tape regulations found in the directive will come to force in 2016.
Unless ECigs become a licensed medical product both the Ecig industry and ecig users will be hugely and negatively impacted by many of the unjustified regulations proposed in the Tobacco Products Directive.
How it will affect you
Larger refill containers over 10ml will be banned
variable voltage and watt devices may be banned as the TPD requires a consistent dose of nicotine to be delivered under normal use
Your choice to vape eliquids in higher strengths above 20mg will be banned
All refillable products may be banned as they cannot ensure leakage free refilling
Due to the additional red tape regulations requiring companies to provide detailed information about their eliquids along with some physically un-measurable components such as "addictiveness" will mean a far smaller choice of eliquids and flavours may be available to the consumer.
Final thoughts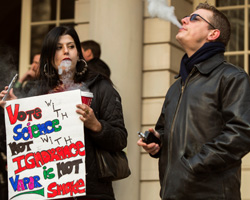 As tobacco users, we have reluctantly and self loathing fed our addiction to Nicotine with products that have damaging, well understood negative health effects. However, finally a substitute is now available for that smoker, with far fewer of the harmful and toxic chemicals of the traditional tobacco products. Smokers now have a way to continue to indulge in their nicotine addiction with a product that has been welcomed by most as a breath of fresh air.
New regulations are seeking to suppress the availability of these "superior to tobacco devices", forcing many back into the dark and dangerous days of smoking traditional cigarettes. This will no doubt be a victory for cigarette and pharmaceutical companies. It will protect their income and revenue which they make from the smoking industry. Governments will continue to receive tax from tobacco sales, something which ecigs threaten in the short term and even greater in the future.
It's not so difficult to see these regulations are not designed to protect the consumer nor does it have the health of the consumer as it's central concern; but a means to implement regulations to ensure the continued revenue from cigarette products for the larger companies and governments which are seeking to protect their self interests and income.
Maybe some hope
One ecig company in the UK has recently won the right to challenge the directive in court, the outcome of which will be known soon. It's a small hope when facing up against such large corporations so as a vaper you too can make your voice heard. The most effective way of making your voice heard is to write to your local MP letting them know your concerns over these new regulations.
References
Full details of article 20 in the Tobacco Products Directive can be read here.